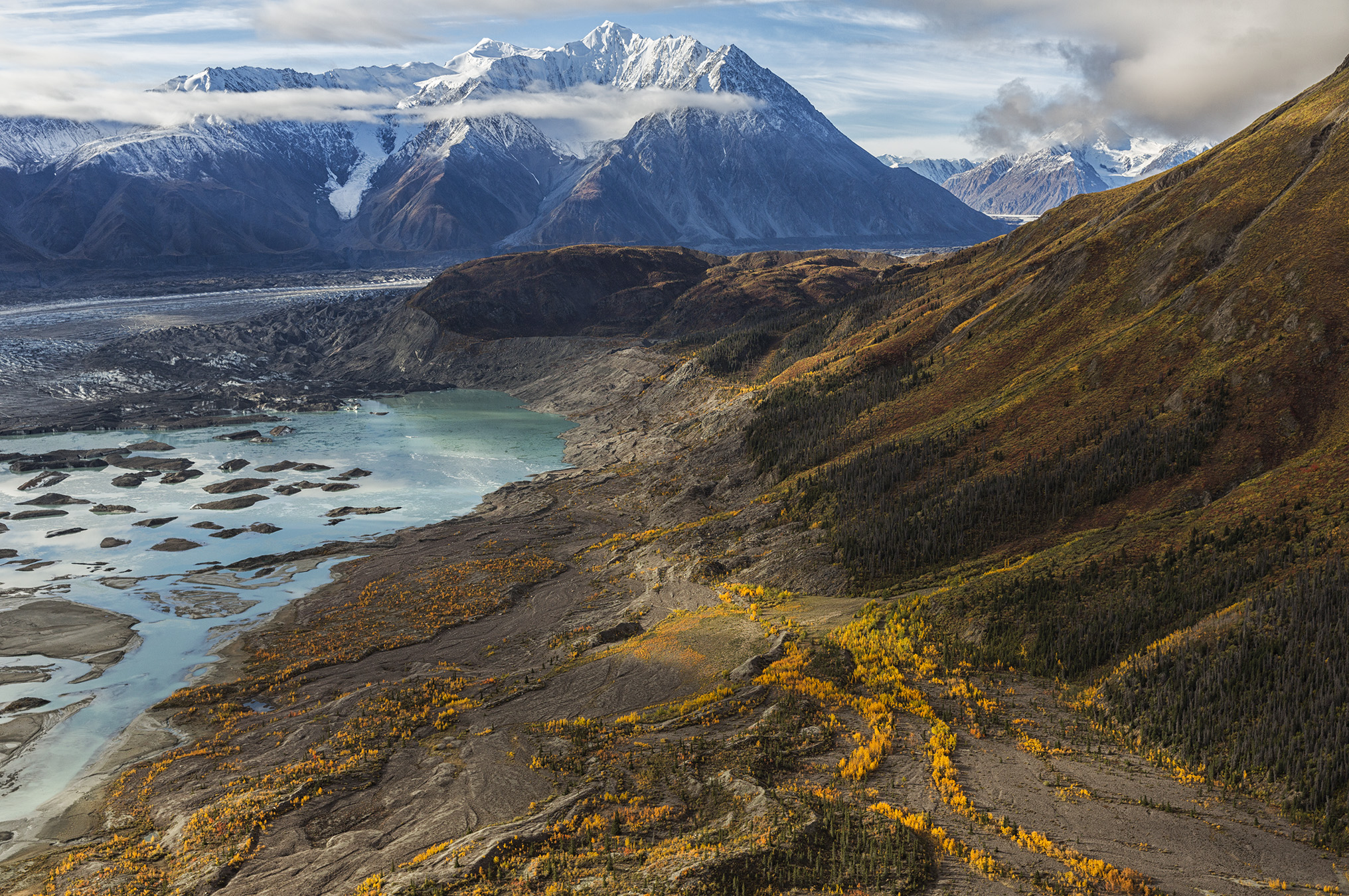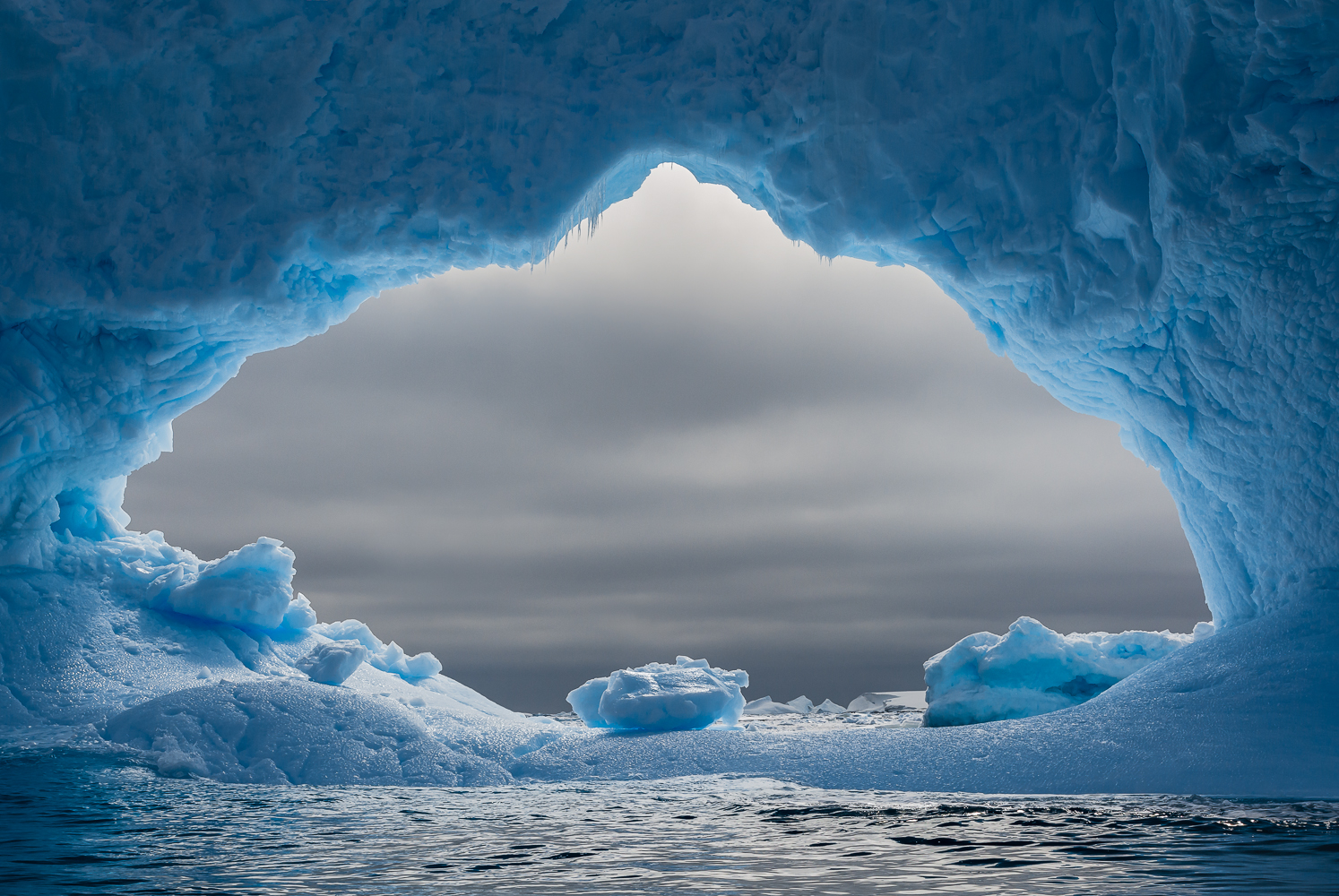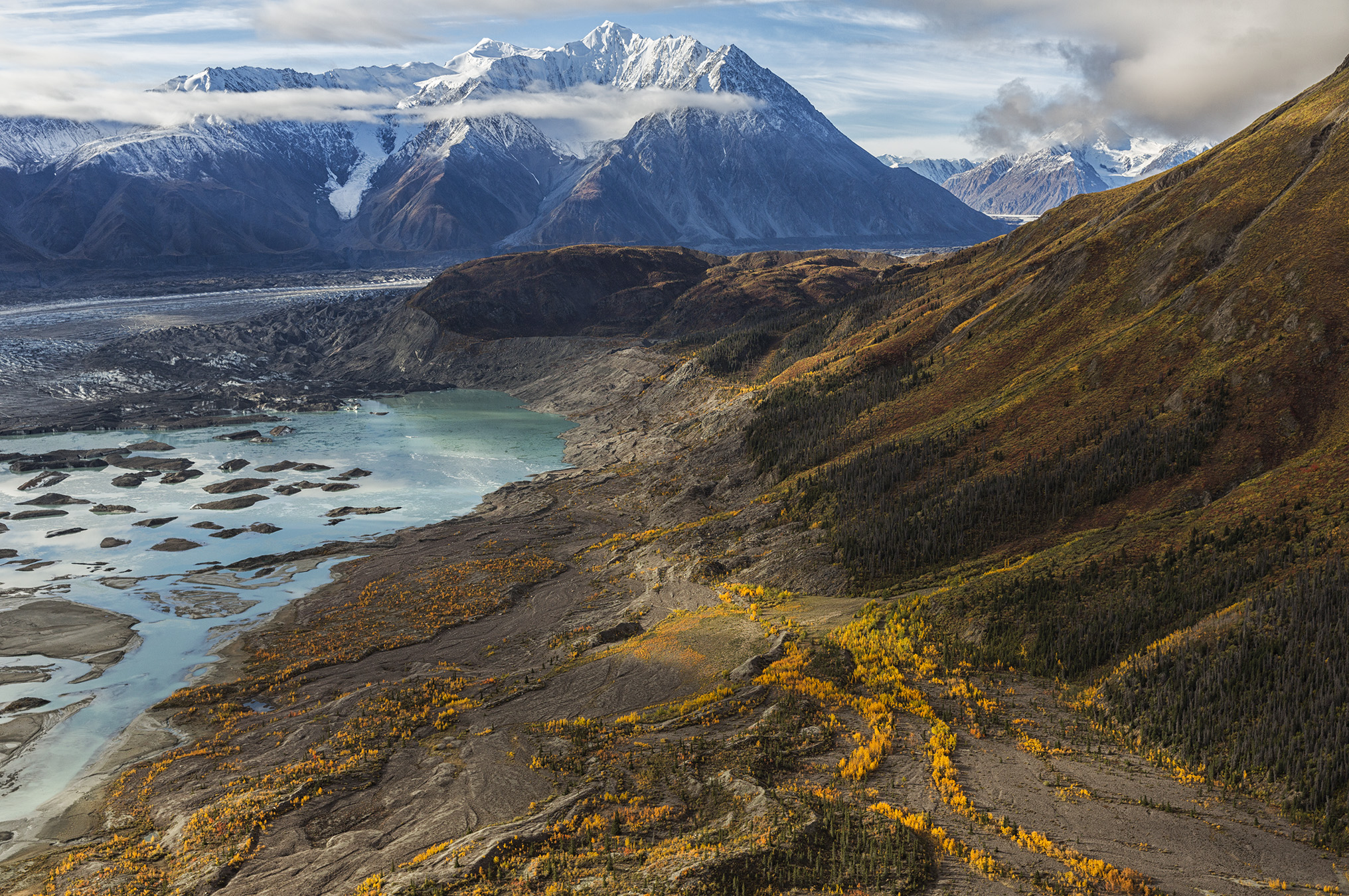 R. POSTMA - PROFESSIONAL CATEGORY
Title: Kluane National Park
High above Kluane National Park one can see Mount Maxwell looming above the Kaskawalsh Glacier. It is also home to the world's largest non polar ice fields. Go Canada!
V. LIU - PROFESSIONAL CATEGORY
Title: Opabin Prospect
It took me 30 minutes to reach this point, without much load, only one lens and my tripod, but the scene is absolutely amazing, which makes me speechless. This is Opabin Prospect in Yoho National Park in BC.
V. LIU - PROFESSIONAL CATEGORY
Title: The Flying Phoenix
Last fall in Yellowknife, me and another 6 photographers observed a truly amazing light, like a phoenix, flying over the tundra.
J. KAPALA - PROFESSIONAL CATEGORY
Title: First Taste of Winter
Taken just outside of Banff, Alberta. When we woke up in the morning, our cabin was covered in snow and it looked like a winter wonderland. I wanted to capture what it was like to catch the first snowflakes of winter.
J. KAPALA - PROFESSIONAL CATEGORY
Title: Watching Summer Set
Taken in Calgary. I had always admired the stunning sunsets we have in Alberta and I waited for the right time to capture the reflection of the sky in the lake, and timeless portrait of a child watching the sunset on the dock by the lake.
S. CAFFREY - PROFESSIONAL CATEGORY
Title: Sing-sing celebration
A tribal woman wearing red face paint and a feather headdress is dancing and playing a drum at the Goroka sing-sing. Sing-sings are gatherings in Papua New Guinea that allow the highland tribes to demonstrate their distinctive cultures in a peaceful setting.
R. POSTMA - PROFESSIONAL CATEGORY
Title: Power
The wind never stops in Iceland. It causes some seriously large waves and crashes them against the rocks making a seen that is quite simply, humbling. The streaks above the rocks are birds soaring on the winds. Not a dirty sensor.
F. VERLINDE - PROFESSIONAL CATEGORY
Title: Look Me In The Eye
Head of bald eagle in black and white.
F. VERLINDE - PROFESSIONAL CATEGORY
Title: Peekaboo!
Deer in field in the golden hour, Cochrane Alberta
B. NADEAU - AMATEUR CATEGORY
Title: Multicultural Mosaic
Taken at the Multicultural Art Festival in Kingston, Ontario. This girl sporting a hijab had her face painted at one of the stands during this annual festival that showcases music, art, and food from a diverse range of cultures around the globe.
L. DYKSTRA - AMATEUR CATEGORY
Title: Winter In The Prairies
I Kept revisiting this location on different mornings when it was very cold to increase the likely hood of this tree being covered with hoar frost and finally on Nov 15/2014 at –40 C I captured this image. Location is in the County of Grande Prairie, Alberta.
Canon 5d Mark II, 24-105 f/4L IS at 40mm, 1/30 sec at F11, ISO 100 and using a Velbon Tripod
N. BULLERS - AMATEUR CATEGORY
Title: Drama at the Rock
Canada's oldest lighthouse located in Cape Spear, Newfoundland. Perched on a rugged cliff at Canada's most easterly point it is the oldest surviving lighthouse in the province and an iconic symbol of Newfoundland and Labrador's mariner history. Constructed in 1836, the Cape Spear Lighthouse represents the unique architecture of lighthouse construction during this era. The structure consists of a stone light tower surrounded by the lightkeeper's residence.
The area is operated by parks Canada and there is some rough trails that surround the area, it was a short hike to the edge of the cliff where I set up to capture this shot. I used a couple of cameras and tripod, this Fuji capture I liked the best. It was windy and I had to be careful this close to the edge.
Fuji X100s, ISO 200, F13, 1/900
N. BULLERS - AMATEUR CATEGORY
Title: Endless
This was taken on Canada's east coast at Cape Spear, Newfoundland. It is on the grounds of Canada's oldest lighthouse. I was in St,Johns for a conference in the fall and although it was not a great day and was raining I thought I would risk the 45 min drive. The rain cleared enough to get a few shots in, and this shot with the clouds and the fence was one of my favorites from the day. I had a couple of cameras, but again the Fuji seemed to capture the best image.
Fuji X100s, ISO 800, f13.0, 1/800, Lightroom 5, Silver Efex pro 2.
R. HUGHES - AMATEUR CATEGORY
Title: Wonder
Making her last new discoveries for the summer, the girl digs around in her grandma's flower bed. This was the last of the sunny September days in Sherwood Park, AB.
T. BELL - AMATEUR CATEGORY
Title: Shoemaker
The caste system thrives in much of India, including Mandawa, home to this shoemaker. At the tender age of 85, this beautiful soul still works long days to provide shoes to those who wouldn't otherwise engage him as he is an untouchable.
T. BELL - AMATEUR CATEGORY
Title: Siesta Interrupted
I saw this Holy Man napping in a quiet corner of Durbar Square in Kathmandu, Nepal. I furtively took his picture, only to startle him awake. Unimpressed, he barked at me, which sent me scurrying away.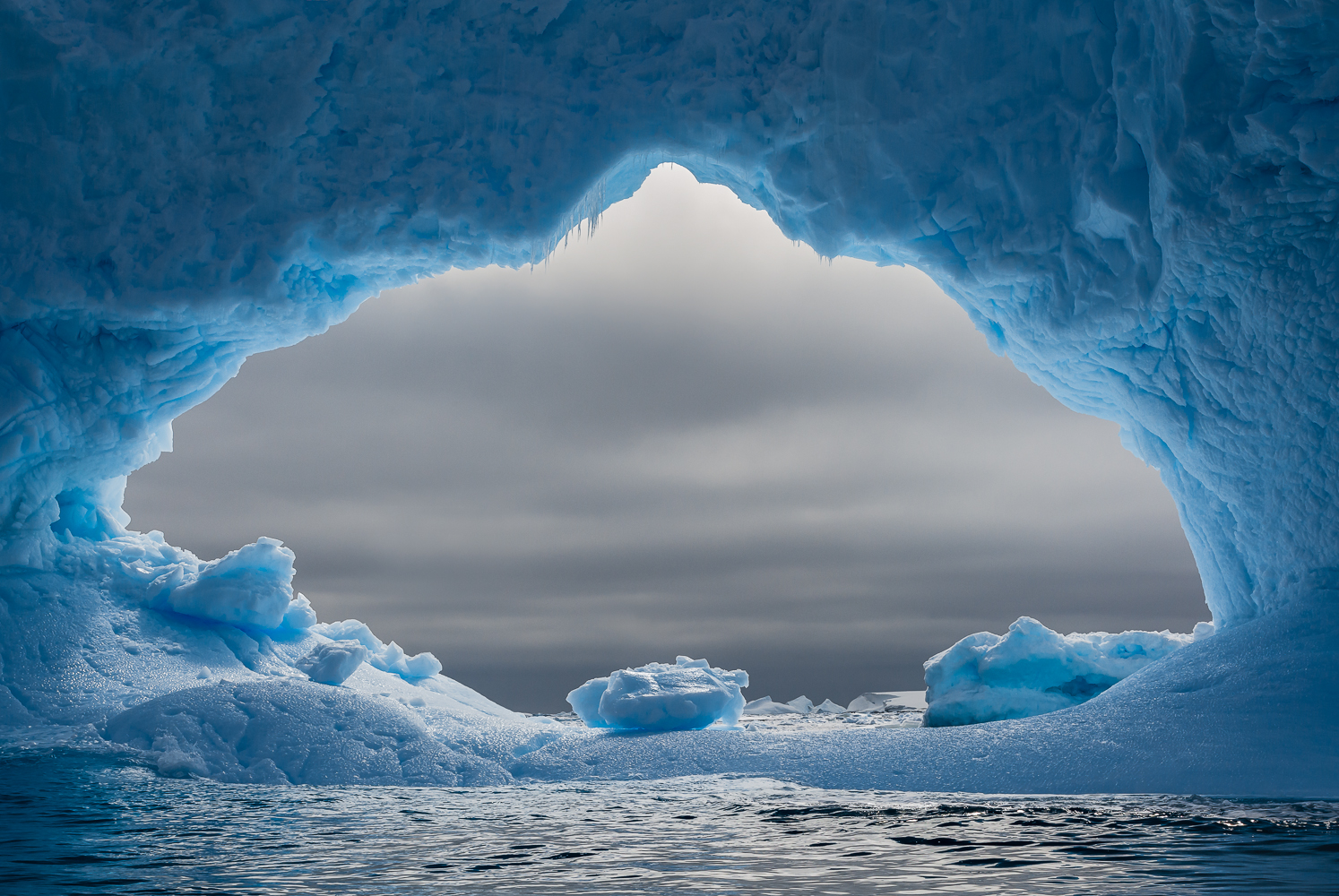 A. SUD - AMATEUR CATEGORY
Title: Iceberg
A hole in the iceberg revealing a moody sky in Antarctica
A. SUD - AMATEUR CATEGORY
Title: Morning Prayer
Morning prayers at the Golden Temple in Amritsar, India
D. DE JESUS JR. - AMATEUR CATEGORY
Title: Downtown Mosaic - Japan
Mirrors are used to expand the subject of the image to the edge of the frame. The reflections from the mirrors create an artificial scene of orderly chaos which the city of Tokyo is well known for.
J. ANDERSON - AMATEUR CATEGORY
Title: Step into the Void
Mountaineers line up to begin the long and careful trek down Bosses Ridge towards the Glacier du Géant below. They will than split up and search out the various peaks to climb. Mont Blanc, French Alps, France
Z. HASTINGS - AMATEUR CATEGORY
Title: Centre
I photographed this man while in the Blue Mosque in Istanbul. The symmetry and the lighting is what drew me in to take the photograph.
A. SUD - AMATEUR CATEGORY
Title: Elephant Seals
Elephant seals fighting for domination at Salisbury Plain, South Georgia.
J. HUYER - AMATEUR CATEGORY
Title: Let's Play
All newborns are playful, and this polar bear cub in Wapusk National Park was no exception. On just its second day outside the den, the cub began to scamper around and revel in all the wonders of the glorious world it was experiencing for the very first time. For just a brief second, in the midst of running around in random directions, the cub stood up next to this tree to check on Mom. I was delighted to realize that I managed to hit the shutter button at just the right time, and capture this unique moment.
L. RISLING - AMATEUR CATEGORY
Title: Lunch!
Taking a walk around my favorite little lake in Salmon Arm, BC, a flash of orange caught my eye! I moved in as close as possible and was amazed as I watched a Blue Heron completely eat this fish, snapping pictures the whole time!
N. BULLERS - AMATEUR CATEGORY
Title: Humm
Hummingbird captured at the Richmond wildlife centre. The centre has hummingbird feeders setup at the back of the exhibit building the problem is that there are so many photographers and they set up a rope 20 feet back so that the birds are not disturbed. I noticed these flowers in the parking lot so I sat on the curb in the parking lot maybe 5 feet from the flowers and the hummingbirds would just swoop in to feed. As I sat there, photographers all marched by to set up in the back with the crowd and catch glimpses at the feeders.
Canon 7D, 200mm Canon L, ISO 320, f4.0, 1/1600
P. JENKS - AMATEUR CATEGORY
Title: Salton Fish
This decaying fish trapped in desiccated mud is a metaphor for the rapidly evaporating Salton Sea in Southern California.
R. GANZ - AMATEUR CATEGORY
Title: Brothers Wolf
Taken at Parc Omega in Quebec. The wolf area is a favorite for photographers.